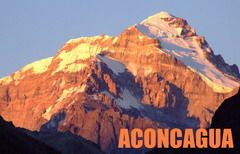 Cerro Aconcagua
Elevation: 22,841 ft / 6,962 m
Location: Mendoza, Argentina, South America
Lat/Lon: 32.65°S / 70°W
When: January, 201?.
Cerro Aconcagua
("The Stone Sentinel") is the highest mountain in the both the Western and Southern hemispheres, the tallest peak on earth outside of the Himalayas, and one of the fabled
Seven Summits
.
Aconcagua is located in western Argentina, near the Chile border: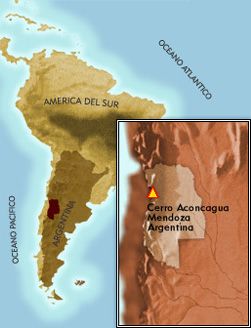 Standing in the heart of the Andes, wedged between Chile and Argentina, Aconcagua's lofty heights make it the ideal introduction to serious high altitude mountaineering. Beginning our three week expedition in the tree lined streets of Mendoza, home of Argentina's famed Malbec grapes, we head into the heart of the Andes on our way to the foot of Aconcagua.
This one is going to be tough!
This one we're going to have to train for!
Note:
There are going to be some people that will want to come just for the experience of being in Mendoza and trekking to Aconcagua and back (and investigating the local Melbec wine while they wait for the rest of the team to come back from the mountain). This can be done for considerably less cost and will be an amazing experience unto itself. There will be family members of the climbing team that will be doing this and others are welcome to join them!
So...

Who wants to join us for the adventure of a life time?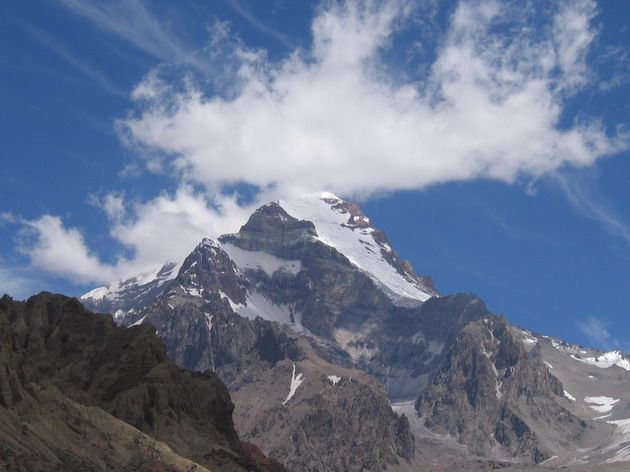 =========================== UPDATE ===========================
UPDATE: December 18, 2013:
Below are the people that have expressed interest so far (
bold means confirmed
):
Leaders:
1.
B. Jody Lotzkar
,
Event Leader
, 1st Mountaineer Scouts, B.C., CANADA
2.
3.
4.
5.
6.
7.
8.
Scouts & Venturers:
1.
Simon
, 1st Mountaineer Scouts, B.C., CANADA
2.
3.
4.
5.
6.
7.
8.
Trekking Team:
1.
Tammi M.
, 1st Mountaineer Scouts
2.
Samantha L.
, 1st Mountaineer Scouts
3. Tim Driscoll,
Official Aconcagua Sommelier
, Fraser Valley Council, DCC - Scoutcraft
We will probably partner with the
Scouts de Argentina
for this event.
This trip is open to any member of Scouts Canada who has a taste for real adventure!
And the ability to take a three week holiday in January.
Here's an excellent Vimeo video of an entire expedition:
https://vimeo.com/64767916#