Everest Base Camp:

17,598 ft./5,364 m.


..............

Sagarmāthā National Park


..............

Nepal
http://en.wikipedia.org/wiki/Mount_Everest
Are you interested in joining us on a trek to Everest Base Camp in the Himalayas in the Spring of 201??
The trek is a classic introduction to the Himalayas and will serve to acclimatize those members of the team that will be climbing Baden-Powell Peak (19,324 ft./5,890 m.) immediately following the EBC trek (see details below).
Mountaineering experience is not required for trekkers.
Here is the itinerary of a Vancouver-based guiding outfit to use as an example of what to expect on this trip:
http://www.themountainschool.com/expedi ... nepal.html
EBC Trek Details here:
http://www.facebook.com/events/229484277148579/
As mentioned above, immediately following this trek, some or all of the members of the EBC trek team will travel to Langtang National Park, Nepal, to attempt to climb
Baden-Powell Peak
(19,324 ft./5,890 m.). Those not wishing to climb but wanting to come to the mountain as a trekking experience are welcome! Langtang National Park is a far less travelling part of the Himalayas and will present an entirely different experience than the trek to EBC. You can stay in the beautiful village at the base of the mountain and enjoy the culture while the climbing team heads up the mountain.
BP Peak Details:
topic742.html
Treking to Everest Base Camp (17,598 ft./5,364 m.):
=========================== UPDATE ===========================
UPDATE: February 13, 2014:
Below are the people that have expressed interest so far (
bold means confirmed
):
Leaders:
1.
B. Jody Lotzkar
,
Event Leader
, 1st Mountaineer Scouts,
B.C.
, CANADA
2.
Tammi Mason
, 1st Mountaineer Scouts, B.C., CANADA
3.
Neala Hutchinson
, 1st Fairfield Rovers, Chilliwack, B.C., CANADA
4. Dennis Aylen, 2nd Langley Scout Group, Langley, B.C.
5. Sam Wallis, 1st Airdrie Cubs,
Alberta
6.
7.
8.
Scouts/Venturers:
1.
Simon
, 1st Mountaineer Scouts, B.C., CANADA
2.
Samantha
, 1st Mountaineer Scouts, B.C., CANADA
3.
4.
5.
6.
7.
8.
9.
10.
So...

Who wants to come along for the adventure of a life time?
The road to EBC (Everest in the center under the clouds and Ama Dablam on the right):
Our Destination:
Peak XV/Everest
(Western) -
Sagarmāthā
(Nepal) -
Chomolungma
(Tibet) -
"Holy Mother" of the Earth (29,029 ft./8,848 m)
: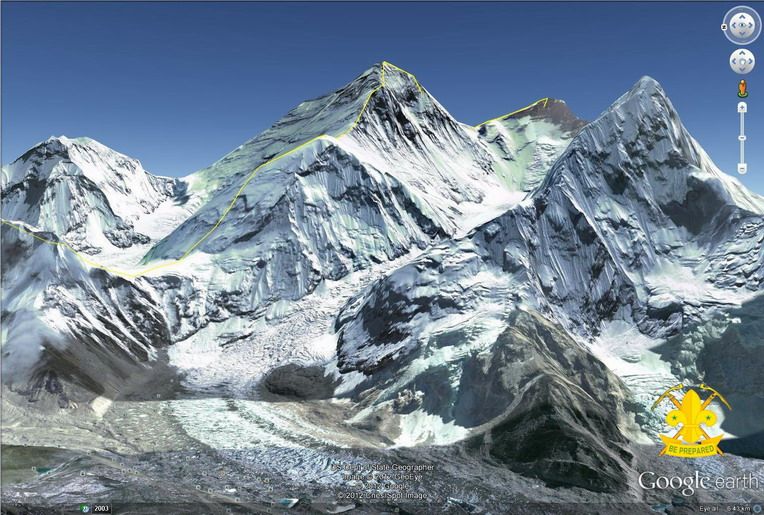 This trip is open to any Scout from any WOSM member country who has a taste for real adventure!