Would anyone be interested in joining my group at the
2013 Mountaineering Camp
from
June 28-July 5, 2013
in
Rogers Pass
, Selkirk Mountains, Glacier National Park (i.e., the week before the
2013 Canadian National Scout Jamboree
at Sylvan Lake, Alberta)?
The Alpine Club of Canada's
Asulkan Cabin
(6,890 ft./2,100 m.) can accommodate 12 people (i.e., either: 4 leaders & 8 scouts -or- 6 leaders & 6 scouts).
http://www.alpineclubofcanada.ca/facility/asulkan.html
Location:
http://goo.gl/maps/mcQm0
We will book the whole cabin (
UPDATE:

The Asulkan Cabin has now been booked for our exclusive use!
) and do a multi-day (7 days/6 nights) basic mountaineering camp on the slopes behind it (i.e., training, conditioning and acclimatizing in stages higher up the mountain each day) culminating with an ascent of
Youngs Peak
(
9,341 ft./2,847 m.
).
On the first day we will meet and stay at the ACC's
Wheeler Cabin
(4,100 ft./1,250 m.) located beside the Illeciliwaet (pronounced illy-sil-la-wet) camp ground parking lot (Glacier National Park) and rest and get to know the team after our journeys to Rogers Pass before heading out the next morning for the high camp.
The trail head starts from the Wheeler Cabin. It's a spectacular 7 km. hike in to the Asulkan Cabin with a 2,790 ft./850 m. elevation gain (the majority of which is done in the last kilometre or so on the narrow spine of a glacial moraine that winds up the slope to the hut). We will have all day to hike in. The trail rises gently along the floor of the Illeciliwaet and Asulkan Valleys surrounded by towering peaks, past avalanche paths and waterfalls before starting the ascent through a subalpine forest, culminating with the hike up the moraine to the Asulkan Cabin.
The cabin is extremely comfortable and well equipped: you will not need to bring your sleeping pads, mess kits, cook ware, stoves or tents on this trip since these things are all stocked at the cabin.
The single biggest problem for this event, however, will be getting our food for the week up to the cabin.
PROBLEM SOLVED: WE'VE GOT AIR SUPPORT!
I estimate that our food for the week will weigh approximately 250-300 lbs. The Scouts and Venturers (11 to 16 year olds) attending this camp will easily be able to carry 20-25 lbs. of personal gear up to the high camp. They will not, however, be able to carry the additional 20 lbs. or more of food they will each need for the week. There are only two options to solve this problem: (a) have a helicopter deliver about 6 duffel bags of supplies; or (b) hire a number of porters (at least six strong men for a full day) to carry our supplies up the mountain on their backs.
We have had a very generous offer from
Alpine Helicopter Inc.
based in Golden, B.C., to deliver our supplies to the cabin for a very affordable rate to help us (Scouts Canada) with this project but landing a helicopter (no matter how briefly) requires special permission from Parks Canada. Discussions with Parks Canada so far have been outstanding and they are very excited to see this project happen (they have some very cool ideas that will make our experience while visiting Rogers Pass even more memorable). We just have to be patient now and wait for Parks Canada's decision about using a helicopter to deliver the week's food. I am confident that this matter will be resolved and that this camp will be the highlight of your 2013 Scouting activities.
UPDATE (April 29, 2013)
:
As of this afternoon, Parks Canada has agreed to issue us a Special Events Permit AND a Helicopter Landing Permit for this event!

We owe Parks Canada a huge "Thank You!" for making such special accommodation for us so that this camp can proceed!
Note: We may do this camp annually from now on:
topic754.html
Surprisingly, cell phone and 3G data service is available at the cabin (it's definitely fun to be able to say "Hi" to your families from such a lofty perch up in British Columbia's Selkirk Mountains and upload photos to Twitter or Facebook - Skype could also be available). Heat, light and cooking is propane. We will use a solar panel to recharge our electrical gadgets.
Ice axes, crampons, seat harnesses and helmets will be required by all attendees (most of this gear can be rented from MEC rather inexpensively).
Draft schedule:
Day 1: Friday, June 28 - travel to Rogers Pass - stay at Wheeler Cabin;
Day 2: Saturday, June 29 - hike to high camp - begin stay at Asulkan Cabin;
Day 3: Sunday, June 30 - introduction to snow travel, ice axe usage and self-arrest;
Day 4: Monday, July 1 - introduction to crampons and roped travel;
Day 5: Tuesday, July 2 - introduction to snow anchors, snow rappelling and belaying and crevasse rescue;
Day 6: Wednesday, July 3 - climb
Youngs Peak
(9,341 ft./2,847 m.) - "alpine start" today = early a.m. departure - headlamps required;
Day 7: Thursday, July 4 - fun day: practice all skills - let's explore Asulkan Pass; and
Day 8: Friday, July 5 - hike down to valley & travel to the Pre-CJ'13 Get-together Camp near Yoho National Park (see below).
I was at this site on August 1, 2012, and it is ideal for the purpose under consideration:
http://5thwestvanscouts.com/2012/08/12/ ... -bugaboos/
Here's a shaky cam video of the proposed site:
http://www.facebook.com/video/video.php ... 5136058243
The Jamboree is being held not far from Rogers Pass (480 kms., 6 hour drive). Here's the driving route to Sylvan Lake:
http://tinyurl.com/b26nbx8
UPDATE:
There will be a
pre-CJ'13 get-together camp on Friday night (August 5)
near Golden, B.C. at the western entrance to Yoho National Park as guests of the 1st Golden Scouts at Camp Wenman. CJ'13 attendees cannot check into the Jamboree until Saturday, August 6, so, if you need a place to crash for the night, why not join us there? Here's the details:
topic776.html
Here's the cabin nearly 7,000 ft. up at the south end of Rogers Pass:
A view of its backyard - a mountaineer's playground (Youngs Peak is at the center top of the photo):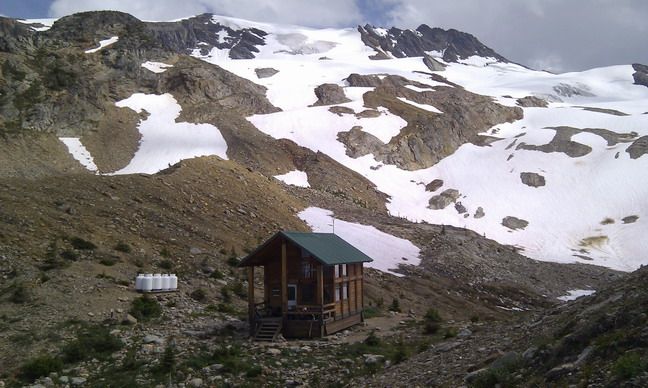 All the great peaks of Rogers Pass are viewable from the cabin's front porch:
This will be a once-in-a-lifetime opportunity to become part of a mountaineering team that will attempt to raise the Scouts Canada flag on a peak over 9,300 feet up in the Selkirk mountains of British Columbia!
http://en.wikipedia.org/wiki/Selkirk_Mountains
In order to book the whole cabin for ourselves we would have to commit to this trip at the earliest possible date (6 months early may not be good enough to have exclusive use of the cabin).
UPDATE: November 5, 2012; 1:00 pm PDT
The Asulkan Cabin has now been booked for our exclusive use!
Any interest?
=========================== UPDATE ===========================
UPDATE: May 8, 2013:
This trip will be booked on a First-Come-First-Served basis.
THIS EVENT IS NOW FULLY BOOKED
Scout Leaders (FULL)

:
1.
Jody Lotzkar
, 5th West Vancouver Mountaineer Scouts,
West Vancouver, B.C.
2.
Jason Gadd
, 1st Golden Scouts,
Golden, B.C.
3.
Keiller Gowans
, 21st Capilano Scouts,
North Vancouver, B.C.
4.
Alistair Campbell
, 21st Capilano Scouts
Scouts (FULL)

:
1.
Simon
, 5th West Vancouver Mountaineer Scouts
2.
Keir
, 5th West Vancouver Mountaineer Scouts
3.
Ben
, 1st Golden Scouts
4.
Meredith
, 1st Riverlake Venturers,
Fall River, Nova Scotia
5.
Zachary
, 21st Capilano Venturers
6.
Jessica
, 21st Capilano Venturers
7.
Svetlana
, 21st Capilano Scouts
8.
Keiran
, 21st Capilano Scouts
9.
Sarah
, 21st Capilano Scouts
10.
Emerald
, 21st Capilano Scouts
THIS EVENT IS NOW FULLY BOOKED
This event is open to any member of Scouts Canada who has a taste for real adventure!